• cornbread • Hot sauce • jalapeno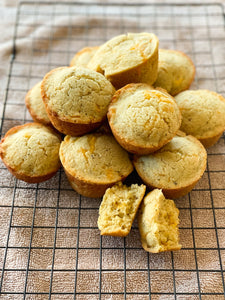 Looking for a yummy cornbread with a kick! Try these Saucy cornbread muffins with a bowl of chili or stew! 1/2 melted butter1/4 cup vegetable oil 1 tbsp honey1 1/2 tbsp sugar(Mix together) 1 egg3/4 C milk3oz Saucy-Jalapeño tomatillo (Whisk together)In a separate bowl mix) 1/2 tsp baking soda1 C AP flour1 tbsp baking powder1 C cornmeal (non self rising)1 Cup cheddar Fold in dry ingredients. Don't over mix. Bake at 350 for 14-18 minutes in a greased muffin pan.
---
• Hot sauce • jalapeno • salmon
Rillettes is an appetizer made from seasoned diced pork or goose meat that is pounded to make it a spread. It originated in France. It is typically eaten on crackers, crostini, and Melba toast. This recipe is spicy salmon rillettes. It is a great choice for an easy appetizer for any party. Ingredients: 2 cups of dry wine 1 shallot, chopped finely 1 lb. skinless salmon, chopped into small pieces 8 oz. smoked salmon, chopped 3 tablespoons mayonnaise 3 tablespoons chives 3 tablespoons Saucy Jalapeno Tomatillo Hot Sauce 7 whole peppercorns 1/3 cup crème fraiche Kosher Salt Ground Pepper Melba toast,...
---
• deviled eggs • Hot sauce • jalapeno • leftovers
Deviled eggs are delicious and easy to make. They add a kick to the traditional appetizer.  This spicy deviled egg recipe is creamy, smoky, flavorful, and spicy. They may be in small size, but they are packed with flavor.  Ingredients: 14 eggs, hard-cooked ½ cup mayonnaise ½ cup sour cream ½ Cheddar cheese, shredded 1/3 cup bacon bits, cooked 3 tablespoons Saucy Jalapeno Tomatillo Sauce ½ tsp Dijon mustard 1 tsp fresh lemon juice ¼ tsp black pepper Paprika Directions:  Slice eggs in half (lengthwise).  Remove the yolks and put them in a medium bowl.  Smash the egg yolks with...
---
• croquettes • Hot sauce • jalapeno • leftovers
Potato Croquettes are a great way to use your leftover mashed potatoes from the Christmas dinner.  These potato croquettes are crunchy on the outside while on the inside, soft and pillowy. It is an easy to make recipe paired with jalapeño dipping sauce. Potato Croquettes Ingredients: 2 cups leftover Mashed Potatoes  Cheese 1 large egg  1 tsp flour 1 cup breadcrumbs 1 cup parmesan cheese ¼ cup chives Oil for frying ¼ tsp salt ¼ tsp pepper ¼ tsp paprika Directions:  Mix mashed potatoes, egg yolk, flour, and chives Roll on the croquettes into small portions Mix the breadcrumbs, salt,...
---
• habanero • Hot sauce • passion fruit
Just in time for the upcoming holidays meals here is a really quick Prime Rib Horsey Saucy. This can be used on Prime rib roast, Ribeye roasts and more! It's so quick and easy! Here is all you need: 1/2C sour cream 2 tbsp mayo 2 tbsp prepared horseradish 1 tsp apple cider vinegar 4tsp Passion Fruit Habanero Saucy Salt and pepper to taste   Mix it up and you are done!