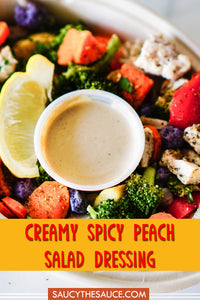 It's sweet, it's spicy and it provides a nice bit of crunch to your leafy greens. This dressing is perfect for any time of day and will have you coming back for more. It's great with chicken, too! This dressing is so easy to make and only takes a few minutes to put together. It's also incredibly versatile with the ingredients that you can swap out to customize it to your liking.  Ingredients: 5 Tablespoons Saucy Thai Peach Chili Sauce 3 Tablespoons extra-virgin olive oil 3 Tablespoons apple cider vinegar 1/2 tsp sea salt 1/4 cup Full-Fat coconut milk Cayenne...
---
• habanero • Hot sauce • salad dressing
This vinaigrette is the solution to what ails you, whether you are trying to impress at Sunday dinner or simply don't have time for a salad that doesn't come in a bag. Balanced flavors of passion fruit, honey and balsamic vinegar, citrus notes and a jolt from fresh black pepper. Just add greens of your choice.  If you love sweet, tangy, and tart flavors, you're in for a treat  Ingredients: 1/2 Tablespoon freshly squeezed lemon juice 1/2 Tablespoon balsamic vinegar or white wine vinegar 1 Tablespoon honey 100 ml extra virgin olive oil 1 Tablespoon Saucy Passion Fruit Habanero Hot...