• fish • habanero • passion fruit • snapper
  Welcome to Saucy, where we explore the delightful world of seafood and bold flavors. In this blog post, we're going to dive into a mouthwatering recipe for Snapper Ceviche. This zesty dish is a perfect combination of fresh ingredients and tangy seasonings, making it an ideal choice for a refreshing appetizer or a light summer meal. Get ready to tantalize your taste buds with the Saucy Snapper Ceviche! Ingredients: To create this delectable Snapper Ceviche, you will need the following ingredients: 1.25 pounds fresh snapper fillets, skinless and boneless 2 limes juiced  2 lemons juiced 1/2 small red onion, thinly...
---
• chili peach • fish
If you've been looking for a way to jazz up your salmon fillets, look no further. This recipe is sure to make your taste buds sing. The secret to this recipe is the marinade. We've mixed up a blend of Saucy Thai chili Peach hot sauce, soy sauce, and ginger that will give your salmon fillets a sweet and spicy kick. Ingredients: 4 Tablespoons Saucy Thai Chili Peach hot sauce 2 Tablespoons light soy sauce 2 Pieces garlic gloves 3 Pieces salmon steak Directions: In a large bowl or bag, mix together Saucy Thai chili peach sauce, soy sauce, and...
---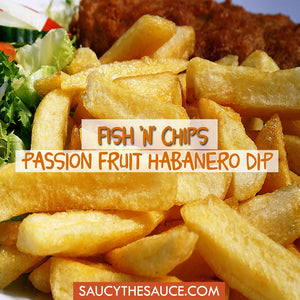 Add a zest to your dip for your Fish 'n' Chips with Saucy Passion Fruit Habanero Hot Sauce. INGREDIENTS 1/2 cup Mayonnaise 1/2 cup Sour cream 3 tablespoons Saucy Passion Fruit Habanero Hot Sauce 1 tablespoon Lemon Juice 1/2 tsp Ground white pepper 1/2 tsp salt INSTRUCTIONS 1. In a medium-sized bowl, mixed together the ingredients. 2. Refrigerate until ready to serve. Happy dipping!