This Peach Chili Glazed Chicken is a great option for those who want something sweet, spicy and savory all at once. The peach glaze pairs perfectly with Saucy Thai Chili Peach hot sauce and provides an extra dose of sweetness that balances out the heat from the chili. Peach Chili Glazed Chicken is also easy to make, which makes it perfect for weeknight dinners or last-minute gatherings. It's sure to be a hit at your next family gathering! Ingredients: boneless, chicken breast, sliced in half lengthways 5 Tablespoons Saucy Thai Peach Sauce 4 Tablespoons honey 1 tablespoon fresh lime juice...
---
Chicken quesadilla can be a great menu idea for busy people. They are easy to make and require only a few ingredients. You can also be creative and mix and match flavors until you find the perfect combination. The possibilities are endless.  This recipe is chicken and corn quesadilla. It is a great choice for an easy lunch or dinner.  Ingredients: 2 cups cooked corn 5 diced tomatoes 1 lime 2 tablespoons Saucy Passion Fruit Habanero Hot Sauce ¼ cup cilantro Flour tortilla or white corn tortilla Grilled chicken (shredded) 3 cups shredded cheese Directions:  In a bowl, combine the...
---
Fried chicken is not just a food, it is a culture.  With so many varieties, you can never go wrong. The easiest way of cooking chicken is frying and this recipe is one you will surely love.  Ingredients: FRIED CHICKEN 1.5 lbs skinless chicken thighs 1 ¼ cup buttermilk 1 Tablespoon Paprika 1 Tablespoon Garlic Powder 1 Tablespoon Onion Powder 1 Tablespoon Smoked Paprika 1 Tablespoon Salt 1/2 Tablespoon Ground Black Pepper 1/2 Tablespoon Sugar 2 Tablespoons Saucy Jalapeno Tomatillo hot sauce 1 Cup flour ½ Cup Corn Starch ¼ Teaspoon Salt ¼ Teaspoon Ground Pepper 1/8 Teaspoon MSG (Optional)...
---
• chicken • Hot sauce • jalapeno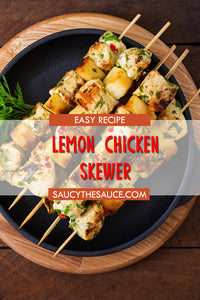 Spicy lemon chicken skewer is one of the recipes that no matter what the season is, you will never fail and is always crave-worthy. It has only a few ingredients, easy to make, low-carb, and amazingly good.  Ingredients: 2 chicken breasts 3 lemons 1 tsp kosher salt 2 tablespoons Saucy Jalapeno Tomatillo Hot Sauce ½ tsp garlic powder 1 tsp black pepper Olive oil   Directions:  Slice the breast into chunks and place them in a freezer bag and set them aside.  In a small bowl zest one of the lemons.  Juice the two lemons and add Saucy Jalapeno tomatillo...
---
• chicken • Hot sauce • jalapeno
It's that time of year when we love to make warm comfort food. This chili is one of my favorite go to meals! 1 yellow onion, small dice 2 tbsp oil 4 cloves garlic, minced 1 32oz chicken stock 1 cup water 2 anaheim peppers, small dice 2 tsp cumin 1 tsp paprika 1/2 tsp dried oregano 1/2 tsp ground coriander salt and pepper 1- 6oz package of jalapeno cream cheese 1.5 cups frozen corn 2 cans cannelini beans 2 cups shredded rotisserie chicken ( or 5 breasts in a crock pot on low** see recipe) 1 tbsp fresh lime juice...