Welcome to the ultimate Taco Wednesday celebration, where we're taking your favorite mid-week tradition to a whole new level! Whether you're a taco aficionado or a casual taco lover, we've got something special in store for you today. Prepare your taste buds to embark on a flavor-packed journey as we explore the world of tantalizing tacos and introduce you to the secret ingredient that will take your taco game to new heights - Saucy! The Art of Crafting Perfect Tacos: Before we dive into the saucy goodness, let's start with the basics - crafting the perfect taco. The foundation of...
---
• Hot sauce • Tofu • Vegetarian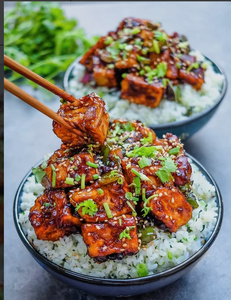 Sweet Chili Tofu is an easy recipe, and it's delicious and low calorie. This dish is perfect for those looking to eat healthier. It's made with tofu and Saucy Thai Chili Peach hot Sauce, so it contains tons of protein and fiber. It will satisfy your tastebuds while keeping you feeling light and healthy. This sweet chili tofu recipe is an easy and delicious way to add a little spice to your life 😉 Ingredients: 1 pound firm Tofu 1/3 cup Scallion 2 cups of Oyster Mushrooms 2 Pieces bell pepper, chopped 2 Tablespoons Olive Oil Saucy Thai Chili Peach Hot Sauce 4...
---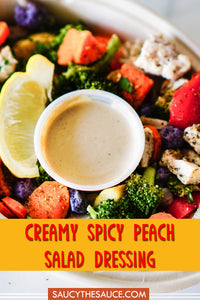 It's sweet, it's spicy and it provides a nice bit of crunch to your leafy greens. This dressing is perfect for any time of day and will have you coming back for more. It's great with chicken, too! This dressing is so easy to make and only takes a few minutes to put together. It's also incredibly versatile with the ingredients that you can swap out to customize it to your liking.  Ingredients: 5 Tablespoons Saucy Thai Peach Chili Sauce 3 Tablespoons extra-virgin olive oil 3 Tablespoons apple cider vinegar 1/2 tsp sea salt 1/4 cup Full-Fat coconut milk Cayenne...
---
This Peach Chili Glazed Chicken is a great option for those who want something sweet, spicy and savory all at once. The peach glaze pairs perfectly with Saucy Thai Chili Peach hot sauce and provides an extra dose of sweetness that balances out the heat from the chili. Peach Chili Glazed Chicken is also easy to make, which makes it perfect for weeknight dinners or last-minute gatherings. It's sure to be a hit at your next family gathering! Ingredients: boneless, chicken breast, sliced in half lengthways 5 Tablespoons Saucy Thai Peach Sauce 4 Tablespoons honey 1 tablespoon fresh lime juice...
---
• habanero • Hot sauce • salad dressing
This vinaigrette is the solution to what ails you, whether you are trying to impress at Sunday dinner or simply don't have time for a salad that doesn't come in a bag. Balanced flavors of passion fruit, honey and balsamic vinegar, citrus notes and a jolt from fresh black pepper. Just add greens of your choice.  If you love sweet, tangy, and tart flavors, you're in for a treat  Ingredients: 1/2 Tablespoon freshly squeezed lemon juice 1/2 Tablespoon balsamic vinegar or white wine vinegar 1 Tablespoon honey 100 ml extra virgin olive oil 1 Tablespoon Saucy Passion Fruit Habanero Hot...