Welcome to the ultimate Taco Wednesday celebration, where we're taking your favorite mid-week tradition to a whole new level! Whether you're a taco aficionado or a casual taco lover, we've got something special in store for you today. Prepare your taste buds to embark on a flavor-packed journey as we explore the world of tantalizing tacos and introduce you to the secret ingredient that will take your taco game to new heights - Saucy! The Art of Crafting Perfect Tacos: Before we dive into the saucy goodness, let's start with the basics - crafting the perfect taco. The foundation of...
---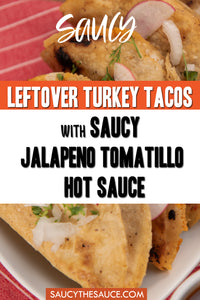 Thanksgiving is a time spent for family, friends, and feasting. And one of the best parts of feasting is leftovers—that delicious feast that you're able to enjoy for days after eating dinner. Turkey tacos are a great solution! They're easy to make and even easier to eat, so you can get back on track with your healthy eating plan in no time. Ingredients: Leftover Turkey Tortillas, preferably corn 2 Tablespoons fresh lime juice 1 Tablespoon virgin olive oil 1 Tablespoon cilantro, minced 1 Cup onion, minced 1 Teaspoon brown sugar 2 cloves garlic, minced Saucy Jalapeno Tomatillo Hot Sauce Kosher...
---
Prawns are madly delicious and you don't have to do much to enjoy their flavor. So, when making prawn tacos, it is important to make them simple and cook them well. Ingredients: 1 Corn on the Cob 1 Tablespoons Butter 1 12/ lbs Jumbo King Prawns 1 ½ Tablespoon Chili Powder 4 Cloves Garlic, diced 2 Tablespoons Olive Oil 1/2 Lime 1 Tablespoon Saucy Jalapeno Tomatillo Hot Sauce Salt Pepper Directions: Over high heat, get the corn charred. Just as the corn is reaching perfection, brush with a mix of melted butter and ½ tablespoon chili powder.  Pull your corn off...
---
Fish tacos are a light meal, but they are so satisfying. This healthy recipe is easy to make. They can be served in small gatherings or large parties.  Ingredients: 2 tablespoons fresh lime juice 1 tablespoon virgin olive oil 1 tablespoon minces cilantro 1 clove garlic, minced 1 lb. halibut fillet Saucy Jalapeño Tomatillo Hot Sauce kosher salt warm corn tortilla copped avocado onions sliced cucumber sliced Directions:  Health the grill pan.  In a small mixing bowl, mix lemon juice, olive oil, cilantro, and garlic Coat the fish with the mixture Season the fish with salt and grill over medium...