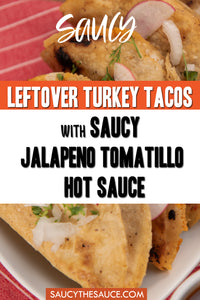 Thanksgiving is a time spent for family, friends, and feasting. And one of the best parts of feasting is leftovers—that delicious feast that you're able to enjoy for days after eating dinner. Turkey tacos are a great solution! They're easy to make and even easier to eat, so you can get back on track with your healthy eating plan in no time. Ingredients: Leftover Turkey Tortillas, preferably corn 2 Tablespoons fresh lime juice 1 Tablespoon virgin olive oil 1 Tablespoon cilantro, minced 1 Cup onion, minced 1 Teaspoon brown sugar 2 cloves garlic, minced Saucy Jalapeno Tomatillo Hot Sauce Kosher...
---
• deviled eggs • Hot sauce • jalapeno • leftovers
Deviled eggs are delicious and easy to make. They add a kick to the traditional appetizer.  This spicy deviled egg recipe is creamy, smoky, flavorful, and spicy. They may be in small size, but they are packed with flavor.  Ingredients: 14 eggs, hard-cooked ½ cup mayonnaise ½ cup sour cream ½ Cheddar cheese, shredded 1/3 cup bacon bits, cooked 3 tablespoons Saucy Jalapeno Tomatillo Sauce ½ tsp Dijon mustard 1 tsp fresh lemon juice ¼ tsp black pepper Paprika Directions:  Slice eggs in half (lengthwise).  Remove the yolks and put them in a medium bowl.  Smash the egg yolks with...
---
• croquettes • Hot sauce • jalapeno • leftovers
Potato Croquettes are a great way to use your leftover mashed potatoes from the Christmas dinner.  These potato croquettes are crunchy on the outside while on the inside, soft and pillowy. It is an easy to make recipe paired with jalapeño dipping sauce. Potato Croquettes Ingredients: 2 cups leftover Mashed Potatoes  Cheese 1 large egg  1 tsp flour 1 cup breadcrumbs 1 cup parmesan cheese ¼ cup chives Oil for frying ¼ tsp salt ¼ tsp pepper ¼ tsp paprika Directions:  Mix mashed potatoes, egg yolk, flour, and chives Roll on the croquettes into small portions Mix the breadcrumbs, salt,...