Welcome to the ultimate Taco Wednesday celebration, where we're taking your favorite mid-week tradition to a whole new level! Whether you're a taco aficionado or a casual taco lover, we've got something special in store for you today. Prepare your taste buds to embark on a flavor-packed journey as we explore the world of tantalizing tacos and introduce you to the secret ingredient that will take your taco game to new heights - Saucy! The Art of Crafting Perfect Tacos: Before we dive into the saucy goodness, let's start with the basics - crafting the perfect taco. The foundation of...
---
• fish • habanero • passion fruit • snapper
  Welcome to Saucy, where we explore the delightful world of seafood and bold flavors. In this blog post, we're going to dive into a mouthwatering recipe for Snapper Ceviche. This zesty dish is a perfect combination of fresh ingredients and tangy seasonings, making it an ideal choice for a refreshing appetizer or a light summer meal. Get ready to tantalize your taste buds with the Saucy Snapper Ceviche! Ingredients: To create this delectable Snapper Ceviche, you will need the following ingredients: 1.25 pounds fresh snapper fillets, skinless and boneless 2 limes juiced  2 lemons juiced 1/2 small red onion, thinly...
---
• breakfast • croissant • eggs
Looking for a quick and easy breakfast recipe that packs a spicy punch? Look no further than this delicious croissant with scrambled eggs and Jalapeno Tomatillo Hot Sauce! This recipe combines the buttery, flaky goodness of a croissant with creamy scrambled eggs and a spicy kick from the Jalapeno Tomatillo Hot Sauce. Perfect for those busy mornings when you need a quick and satisfying breakfast, this croissant sandwich is sure to become a new favorite. So, let's get cooking! Ingredients: 1 croissant 2 eggs 1 tablespoon milk Salt and pepper to taste 1 tablespoon butter 1-2 slices of ham Jalapeno...
---
• chili peach • fish
If you've been looking for a way to jazz up your salmon fillets, look no further. This recipe is sure to make your taste buds sing. The secret to this recipe is the marinade. We've mixed up a blend of Saucy Thai chili Peach hot sauce, soy sauce, and ginger that will give your salmon fillets a sweet and spicy kick. Ingredients: 4 Tablespoons Saucy Thai Chili Peach hot sauce 2 Tablespoons light soy sauce 2 Pieces garlic gloves 3 Pieces salmon steak Directions: In a large bowl or bag, mix together Saucy Thai chili peach sauce, soy sauce, and...
---
• lumpia • spring roll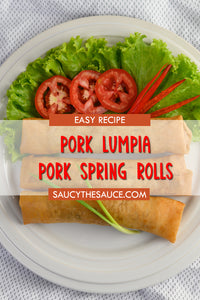 Pork Spring Rolls or Pork Lumpia, also known as Filipino spring rolls, is a popular dish that is savory, crispy and delicious. This dish is typically made with a savory filling of ground pork, onions, garlic, and a variety of vegetables, wrapped in a thin wrapper and deep-fried to a golden brown. Pork Lumpia is often served as an appetizer or side dish, but it also makes a great main course when served with rice. This dish is popular in the Philippines and also in many Filipino communities around the world. Not only it is delicious but also it is...