Prawns are madly delicious and you don't have to do much to enjoy their flavor. So, when making prawn tacos, it is important to make them simple and cook them well. Ingredients: 1 Corn on the Cob 1 Tablespoons Butter 1 12/ lbs Jumbo King Prawns 1 ½ Tablespoon Chili Powder 4 Cloves Garlic, diced 2 Tablespoons Olive Oil 1/2 Lime 1 Tablespoon Saucy Jalapeno Tomatillo Hot Sauce Salt Pepper Directions: Over high heat, get the corn charred. Just as the corn is reaching perfection, brush with a mix of melted butter and ½ tablespoon chili powder.  Pull your corn off...
---
• Hot sauce • jalapeno • pesto
Nothing beats fresh pesto sauce. So, ditch the pesto that comes in a jar, make it fresh, make it tasty and make it in the same day. You can have a fresh pesto sauce all winter long with jalapeno spinach pesto. For only a couple of dollars you can buy a large bag of fresh spinach leaves and you'll be able to make different batches of Jalapeno Spinach Pesto.  Ingredients: 2 cups fresh spinach leaves 3 cloves garlic ¾ to 1 cup extra virgin olive oil 1 cup pine nuts 1/3 to 1/2 cup freshly grated Parmesan 1 ½  Tablespoon...
---
Unlike many dishes, salsa recipes can be blended with different flavors that you can essentially try almost any ingredient in this dish and still get something great.  Making your own salsa is quite simple. This is an easy yet delicious salsa that can slap on your tacos, grilled chicken, fish, and pork, dash into a burrito bowl or you can just eat them straight. Ingredients: 2 Corn on the Cob 3-5 Tomatoes 1 Red Onion 1-2 Tablespoon Saucy Jalapeno Tomatillo Hot Sauce 1 Lime Bunch of mint Salt 2 Tablespoons Butter Directions:  Chop the tomatoes into small cubes and put...
---
• Hot sauce • jalapeno • shrimp
Spicy grilled shrimp is a very easy-to-make recipe and packed with a whole lot of flavors.  This recipe is perfect for those who want to throw a smokey dinner.  Saucy Jalapeno Tomatillo hot sauce is a perfect complement for grilled shrimp.  Ingredients: 2 lbs. shrimp, peeled and deveined 3 tablespoons lemon juice 1 tsp kosher salt 2 tablespoons Saucy Jalapeno Tomatillo Hot Sauce ½ tsp garlic powder 1 tsp black pepper Directions:  In a small bowl mix Saucy jalapeno tomatillo hot sauce, salt, pepper, garlic powder, and lemon juice. Set aside about ¼ for the mixture for grilling Place the shrimp...
---
• cornbread • Hot sauce • jalapeno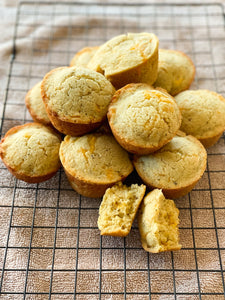 Looking for a yummy cornbread with a kick! Try these Saucy cornbread muffins with a bowl of chili or stew! 1/2 melted butter1/4 cup vegetable oil 1 tbsp honey1 1/2 tbsp sugar(Mix together) 1 egg3/4 C milk3oz Saucy-Jalapeño tomatillo (Whisk together)In a separate bowl mix) 1/2 tsp baking soda1 C AP flour1 tbsp baking powder1 C cornmeal (non self rising)1 Cup cheddar Fold in dry ingredients. Don't over mix. Bake at 350 for 14-18 minutes in a greased muffin pan.