• breakfast • croissant • eggs
Looking for a quick and easy breakfast recipe that packs a spicy punch? Look no further than this delicious croissant with scrambled eggs and Jalapeno Tomatillo Hot Sauce! This recipe combines the buttery, flaky goodness of a croissant with creamy scrambled eggs and a spicy kick from the Jalapeno Tomatillo Hot Sauce. Perfect for those busy mornings when you need a quick and satisfying breakfast, this croissant sandwich is sure to become a new favorite. So, let's get cooking! Ingredients: 1 croissant 2 eggs 1 tablespoon milk Salt and pepper to taste 1 tablespoon butter 1-2 slices of ham Jalapeno...
---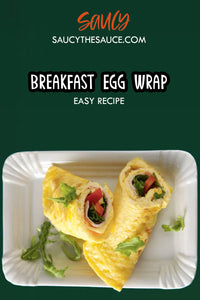 A Breakfast Egg Wrap is a delicious and convenient way to start your day. When you're in a rush, sometimes it's hard to find the time to make breakfast. But if you have an egg wrap handy, you can whip up a quick and healthy meal in just minutes. This simple breakfast wrap recipe is so easy to make that you'll never have to resort to cereal or fast food again! Ingredients: 4 eggs 1/2 cup milk 1/8 teaspoon ground black pepper 2 (8-inch) flour tortillas 1/2 cup shredded white Cheddar cheese, divided 1 cup baby spinach, divided 2 ounces...