Chicken quesadilla can be a great menu idea for busy people. They are easy to make and require only a few ingredients. You can also be creative and mix and match flavors until you find the perfect combination. The possibilities are endless.  This recipe is chicken and corn quesadilla. It is a great choice for an easy lunch or dinner.  Ingredients: 2 cups cooked corn 5 diced tomatoes 1 lime 2 tablespoons Saucy Passion Fruit Habanero Hot Sauce ¼ cup cilantro Flour tortilla or white corn tortilla Grilled chicken (shredded) 3 cups shredded cheese Directions:  In a bowl, combine the...
---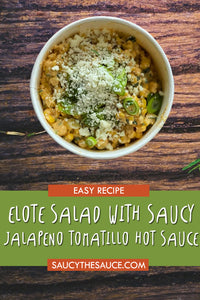 Elote salad is the perfect way to enjoy those flavors you love about elote—a little bit spicy, a little bit creamy, and a whole lot of yum—without feeling guilty about eating too much!  Elote salad originates in Mexico, and is popular in the southwestern United States. It's a delicious side dish to serve alongside your favorite grilled meat or fish. It also makes a filling, healthy lunch or dinner when paired with whole-grain tortillas! Ingredients: 2 large corn cobs, grilled and removed from the cob 1 red onion, finely chopped 2 tbsp unsalted butter 3 tablespoons sour cream 2 tbsp...
---
Unlike many dishes, salsa recipes can be blended with different flavors that you can essentially try almost any ingredient in this dish and still get something great.  Making your own salsa is quite simple. This is an easy yet delicious salsa that can slap on your tacos, grilled chicken, fish, and pork, dash into a burrito bowl or you can just eat them straight. Ingredients: 2 Corn on the Cob 3-5 Tomatoes 1 Red Onion 1-2 Tablespoon Saucy Jalapeno Tomatillo Hot Sauce 1 Lime Bunch of mint Salt 2 Tablespoons Butter Directions:  Chop the tomatoes into small cubes and put...