• chicken • Hot sauce • jalapeno
It's that time of year when we love to make warm comfort food. This chili is one of my favorite go to meals! 1 yellow onion, small dice 2 tbsp oil 4 cloves garlic, minced 1 32oz chicken stock 1 cup water 2 anaheim peppers, small dice 2 tsp cumin 1 tsp paprika 1/2 tsp dried oregano 1/2 tsp ground coriander salt and pepper 1- 6oz package of jalapeno cream cheese 1.5 cups frozen corn 2 cans cannelini beans 2 cups shredded rotisserie chicken ( or 5 breasts in a crock pot on low** see recipe) 1 tbsp fresh lime juice...
---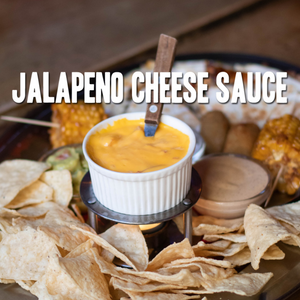 Who doesn't love a great cheese dip! This recipe is quick and easy to make. It can be served in small batches or double for a great game-time snack. Ingredients: ½ cup milk 3 tablespoons Saucy Jalapeño Tomatillo Hot Sauce 1 ¼ tsp all-purpose flour ¾ cup shredded cheddar cheese Directions:  In a small saucepan, combine flour and milk.  Mix until smooth. Stir for about 2 minutes until thicken and remove from the heat. Add the cheese and Saucy jalapeño tomatillo hot sauce.  Stir until the cheese is melted Serve warm.   Notes: You can also use our Saucy...
---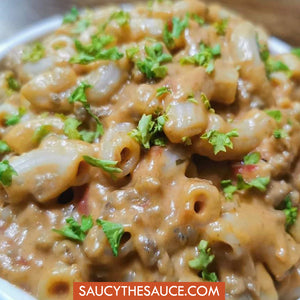 Mac and Cheese is the ultimate comfort food. This is quick and easy to make. This recipe is creamy and with mild heat. A great stovetop mac and cheese you will surely love. Ingredients: 3 dry cups of pasta  9 ounces of cheddar cheese (shredded) 1 tsp kosher salt 2 tablespoons Saucy Jalapeño Tomatillo Hot Sauce ½ tsp garlic powder ¼  cup of Parmesan cheese ½ tsp black pepper 1 ½ cups whole milk 1/3 cup butter 2 tablespoons flour Directions:  Cook the pasta (al dente) in salted water. Once the pasta is cooked, drain and reserve. In the same...
---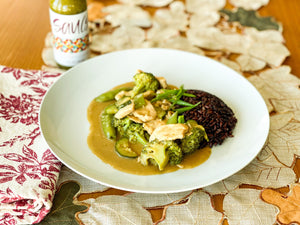 Are you a fan of curry? Have you ever tried it? Some people either love it or hate it but we are here to change that! This green chicken recipe will blow your mind!  2 chicken breasts sliced thin- marinated in Saucy (green)1 can coconut milkGreen Veggies: asparagus, zucchini snow peas, broccoli, scallions5 tbsp curry paste (green)2 tbsp coconut oil1 lime peeled1-1.5 in lemongrass piece, smashed1 tbsp ginger paste (can sub 1in pc ginger)2 cloves garlic2 tsp low sodium soy sauce1 tbsp came sugar Marinate chicken for 30 mins while prepping the rest.Using a Dutch oven, heat pan on medium...
---
Chicken wings! Chicken wings! Chicken wings! There are a lot of ways to prepare chicken wings. They are not just tasty, but they are very easy to prepare.  If you love our passion fruit habanero recipe, then you'll surely love this Korean passion fruit habanero recipe – sweet, sour, and spicy!  Ingredients: 2 lbs. chicken wings ½ teaspoon baking soda ½ tsp salt ½ tsp ground black pepper   ½ cup potato starch ¼ cup all purpose flour 2 large eggs 2 tsp vegetable oil (for the sauce) 2 cloves garlic, minced 1 chopped habanero 5 tablespoons rice syrup 2 tsp...